The back-to-school season is an exciting fresh start for both students and teachers. Start the academic year off with feelings of positivity and inclusion with intentional back-to-school events that build up your students and staff. Events tailored for back-to-school provide a unique opportunity to create a sense of excitement and community among students and teachers.
As the summer season comes to an end and we prepare for the 2023 school year, consider these back-to-school event ideas to invigorate the spirit of learning and community.
Welcome Carnival: A Festive Start
Imagine walking onto the school grounds on the first day and being welcomed by a vibrant and bustling carnival atmosphere. From colorful booths offering games, face painting, and delicious treats to engaging activities like scavenger hunts and slime making, a welcome carnival sets a joyful and inclusive tone for the year ahead. 
It's not just about fun; it's an opportunity for students to reconnect with friends, meet new peers and educators, and build excitement and curiosity about the learning journey awaiting them.
School Spirit Week: Creating Camaraderie
School spirit is about embodying a collective pride and a sense of community. Organizing a school spirit week at the start of the year can fill students with a sense of belonging and pride in their school from the start. Popular daily themes for Spirit Week include:
Color Wars (Each grade represents a different color)

Funky Hat and Hair Day

Pajama Day

Future Career Day

Twin/Triplet Day

Sports Team Spirit Day

Decades (20s day, 80s day, etc)

Crazy Sock Day
Encourage students, staff, and teachers to participate to foster a feeling of community among everyone. This simple yet effective event can create fun memories, build up morale, and remind everyone that they are part of something bigger than themselves.
Infuse the school colors into spirit week activities by including color in lesson plans, announcing color theme days, serving themed color snacks, and have an all-out color war games day in school colors.
Color Run: Splashes of School Spirit
Inject a burst of vibrancy into the back-to-school season with a color run! Students wear white cotton shirts and run through school color stations where they're showered with non-toxic color powder.
This dynamic event not only encourages physical activity but also symbolizes the diversity and unity of the school community. The explosion of colors creates a visual spectacle that is both exciting and memorable, leaving everyone covered in a vibrant reminder of the connections they've made. Students can even preserve their now colorful t-shirts to remind them of their school spirit. 
Back-to-School Picnic: Building Connections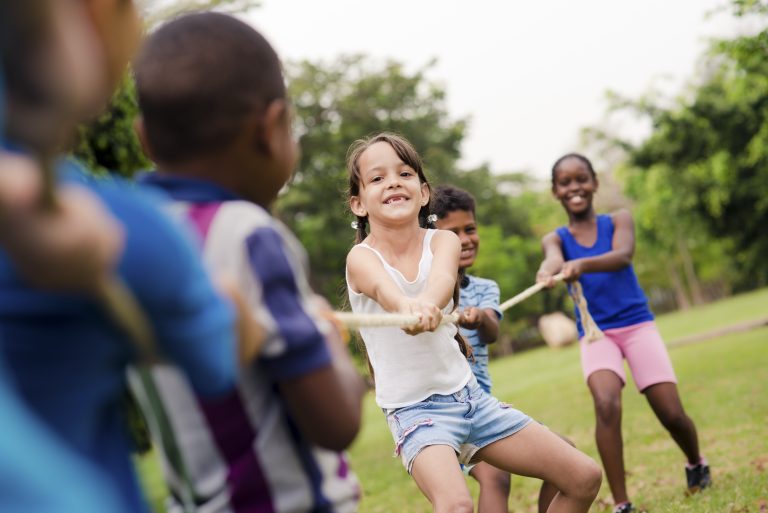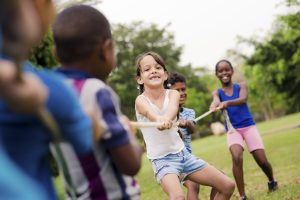 A back-to-school picnic is a fantastic way to bring the school community together in a relaxed and low-stress atmosphere. Set up a welcoming outdoor space with blankets, picnic baskets, and an array of classic outdoor games like: 
Tag

Capture the Flag

Red Light, Green Light

Hide and Seek

Four Square

Duck, Duck, Goose

Kickball

Tug of War

Jump Rope Competitions
Infuse school spirit into the games with color powder, color or school-themed shirts, and school-themed prizes or favors. This event provides an opportunity for parents, students, and teachers to interact in a casual environment, allowing for meaningful conversations and connections to form. 
Community Service Day: Empowering Students to Give Back
Education isn't just about academics; it's also about shaping responsible and compassionate individuals. A community service day is a fantastic way to build up the values of empathy and giving back in students. 
Collaborate with local charities or environmental organizations to create a day of meaningful (and age-appropriate) service projects. Students of all ages can give back to their community: 
Elementary students can help plant a garden. 

Middle schoolers can volunteer to read to shelter animals. 

High school students can run clothing drives or volunteer at senior centers.
A community service event is a great opportunity for students to build personal responsibility, boost their self-confidence, and understand the importance of contributing to their community.
School Talent Show: Unleashing Creativity and Friendships
Every student is unique and has a diverse set of talents waiting to be showcased. A school talent show provides a (literal) platform for students to express themselves and share their passions with their classmates. 
From singing and dancing to comedy acts and magic tricks, a talent show is a celebration of individuality and creativity. Talent shows can boost students' confidence, form friendships, and create an atmosphere of appreciation and support for one another's abilities.
STEM Fair: Nurturing Curiosity and Innovation
Teachers know education extends beyond textbooks, it's about fostering innovative thinkers. A STEM Fair provides an opportunity to cultivate curiosity and ingenuity among students. Just as Community Service Day instills values, the fair empowers them to explore science, technology, engineering, and mathematics (STEM) with a hands-on approach.
Collaborate with local experts and professionals to create age-appropriate interactive exhibits that engage students with concepts that spark creativity. As students explore the STEM Fair, they build connections to the world of discovery and with each other.
Arts Fair: Fostering Creativity and Expression
Education is a multifaceted journey that goes beyond the classrooms; it's about nurturing the spirit of creativity and fostering self-expression. By teaming up with artists from the local community, an Arts Fair buzzes with diversity and excitement in every interactive booth. 
During this event, students dive into hands-on activities that invite them to experiment and express their inner creativity. Students are exposed to new tools, techniques, and materials at an Art Fair while learning about color, shape, and texture. 
An Art Fair becomes a dynamic platform that empowers students to delve into the rich realm of artistry and imagination.
Events Make Back-to-School Impactful
Back-to-school events are more than celebrating the beginning of the academic year. They are about creating an inclusive learning environment. These events have the power to create a strong sense of community, belonging, and engagement among students – paving the way for a smooth transition to the classroom.